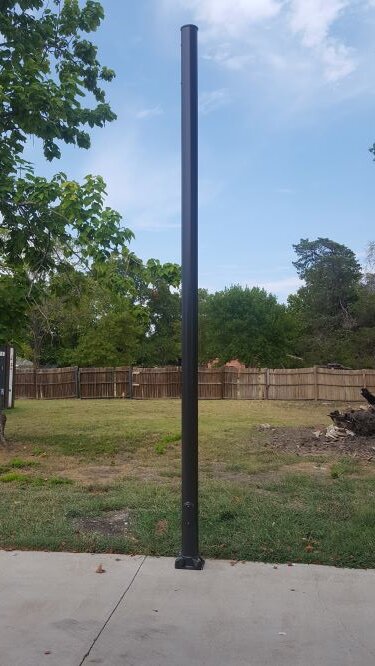 In our camera poles line, we have the Steady Max series. The 16ft SteadyMax Security Camera Pole (SM16) is a 6in, non-tapered, massive wall (.156 thick), aluminum round pole made out of 6063-T6 Aluminum. It can be ordered in our usual White and Black (Dark Bronze) powder coat finishes.
Our original pole is 16ft with only one hand hole 18in up from the base, and the second style is a 16ft with two hand holes the same 18in up from the base with the other being 4ft from the top of the pole.
These engineered camera poles also have a Factory-Installed Vibration Suppression System consisting of two different frequency dampeners that quell high and low-frequency vibrations, and oscillations may occur during the life of the pole. These vibrations, which are a natural phenomenon, and usually site-specific, are not due to any fault in the pole design, material, or workmanship, can be described like this:
First Mode Vibration: This is when you see the top of a pole shaking back & forth, similar to a diving board.
Second Mode Vibration: Occurs around the midpoint of a pole and acts more like a guitar string.
The 16ft pole is our best-seller and is best suited for security, surveillance, and CCTV applications, installed at entry-exit points such as gates or even pedestrian walkways.
For more information on the security camera poles, contact one of our Sales Engineers toll-free at 844-669-3537 or stop by our website at strongpoles.com.