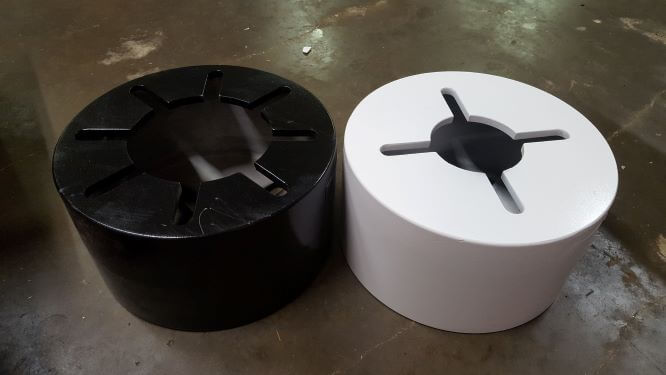 Do you have a camera / light pole that has rusted out or has storm damage and needs to be replaced? Are you putting off replacing because you think you also have to replace the foundation? Hera at Strong Poles, we have a full line of Camera / Light Poles, but we also carry in stock Light Pole Bolt Circle Adapter.
Light Pole Adapter provides customers with an existing foundation, an economical solution while maintaining the pole's aesthetics. They eliminate both the cost of removing the existing foundation and new anchor bolts' cost with the new foundation installation.
The adapter will accommodate a foundation bolt circle of 10-1/2″ to 14-1/2″ square bolt circle range, 10-1/2″ to 14″ diamond bolt circle range, and a top bolt circle range of 7.5″ to 12″. The light pole adapter can be installed either side down, further expanding this versatile adapter's usable range.
When ordering your light pole adapter, you have a few options to choose from, one being color options of dark bronze/black or white. You can order with or without leveling shims and be ordered with or without hardware; if ordering with hardware, the kit will be 5/8″ pole mounting hardware.
For more information on the Light Pole Adapter, contact one of our Sales Engineers toll-free at 844-669-3537 or stop by our website at strongpoles.com.