Stand-Alone Mounts & Systems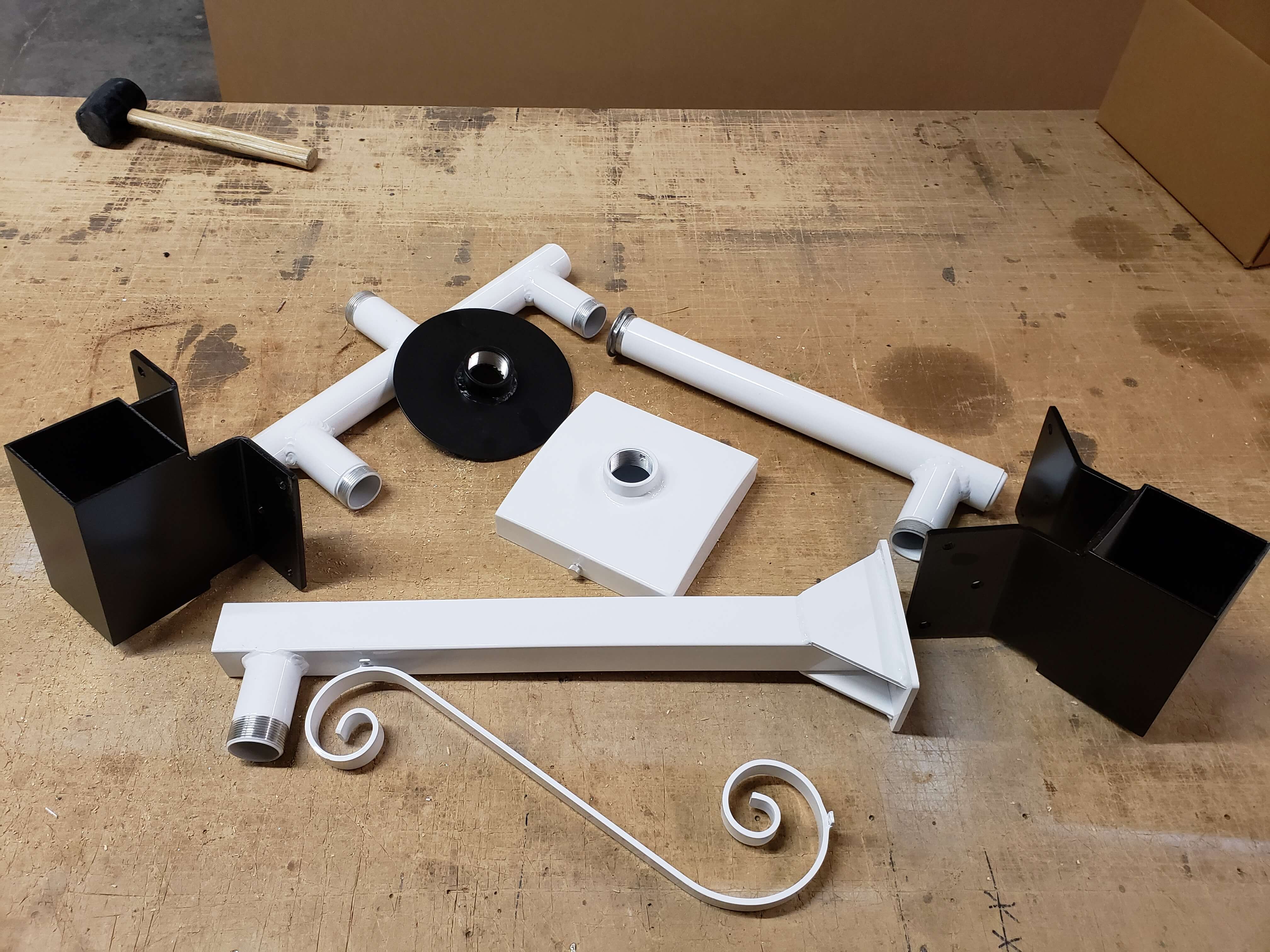 Not all security camera system devices can be installed on a pole because of space restrictions or some other reason. That is why we have a line of Stand-Alone Mounts and Systems, to provide an option for those times. At this time, we have about eight different options with more in the development stage.
Here are the options: The first is the 2 Ft Arm with Dual Gussets (& Optional Flourish). This arm takes your cameras and attachments out to 2 feet from the Pole.
Corner Mount that not only gives you three different faces for camera mounting,(Front face is 4'W x 7″H – Sides are 6'W x 6″H) and also gives you a handy junction box enclosure (4″ x 4″ square 7″ Deep) for wiring, POE injectors, lightning resistors, etc.
Dome Camera Mount designed to screw onto our stylish "Fly-Over or Fly-Out Camera Mounts." This round mount can accommodate virtually any Dome camera on the market. The 6" round mounting plate a 1″ diameter hole for to pass through.
 Panoramic Camera Mount designed to screw onto our stylish "Fly-Over Camera Mount." This square mount can accommodate virtually any Panoramic camera on the market. The 7" square mounting door on the bottom, swings out to make wiring and installation quick and straightforward.
Parapet Mount is not only useful by itself, but it can also be ordered with a variety of attachments that we make for it.
 Surface Mounting System that uses short lengths of poles to help you mount cameras or accessories to.
The Twin Adapter and the Extension are two new products that can give you more versatility and capability. They can be used together or separately to provide you with the perfect vantage point.
Wall Mount Bracket set that allows users to mount any Strong Poles brand 4″ Square 5′, 8′ & 12′ poles to a wall or parapet (with at least a 24" minimum distance between the upper and lower bracket mounts).
For more information on any of these Stand-Alone Mounts & Systems contact one of our Sales Engineers toll-free 844-669-3537 or stop by our website strongpoles.com.