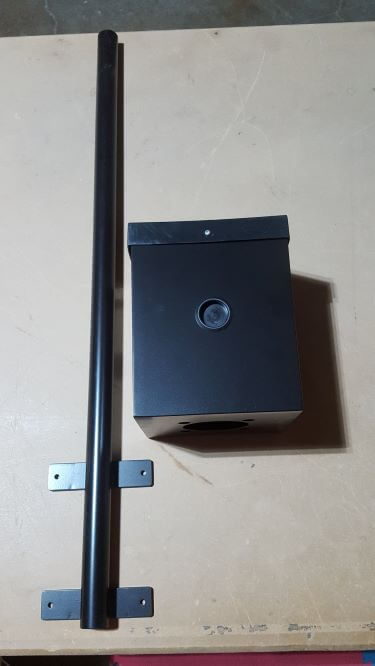 StrongPoles has the best options for installing an outdoor wireless security products like wireless antennas, with the 8×10 Mounting Platform (Birdhouse) and the Antenna Mast (for the Birdhouse). With these two products, there are no more mounting antennas to existing light poles by any means possible and encountering difficulties with the pole blocking part of the signal. 
The 8×10 Mounting Platform (Birdhouse) (part# SP-PTZEM) can be mounted to the top of our SteadyMax Poles or the 4inch Square Classic Poles. "The Birdhouse" has been used in many different ways. Still, it is designed to provide four long, broad mounting faces for large, heavy PTZ Cameras, Equipment Cabinets, Power Supplies, Transmitters and Antennas, and a myriad of Security Detectors, Sensors, and Other Devices.
The Antenna Mast (for the Birdhouse) (part# SP-PTZEM-AT) is designed for getting the antennas in free air with no blocking structures; it is an advantage that speeds installations and increases height and signal coverage. Constructed with 1-1/2inch aluminum tubing and attaches with four bolts or self-drillers screw to the blank side of the Birdhouse via 6×4 aluminum plate that is 1/4inch thick. The mast is 39inches long and can hold the largest parabolic antennas, multiple patch antennas, and more than one Yagi antennas. This mast is rigid and sturdy enough to hold even the largest antennas without bending.
For more information on the outdoor wifi mounting products, contact one of our Sales Engineers toll-free at 844-669-3537 or stop by our website strongpoles.com.