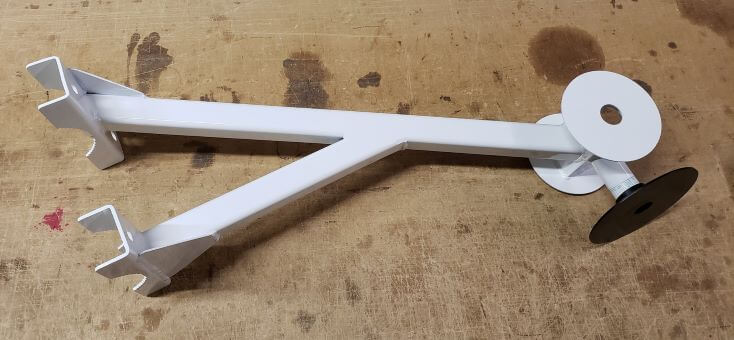 A popular camera pole attachment is the Fence-Guard Mount, designed to aid in video analytics down fences or property lines. Surveillance Camera Systems today have functions like motion or tamper detection, face recognition, video tracking, and much more. Ensure you have a solid, steady, and rigid mount that works efficiently without lots of movement from the pole or the camera pole attachment.
With most high-security areas fencing being 12ft or higher and not meant for security cameras, using the combination of the Steady Max pole and the Fence-Guard Mount will give you the solid, steady, and rigid mount needed to get the correct information from your analytic video cameras.
The Fence-Guard Attachment is attached with two large 5/8" U-Bolts and pole clamps that lock to the pole and will not move. The attachment also uses strong gussets at the base to ensure that the attachment does not sway or have any movement.
The two-camera mount circles on each side of the end-mounted Junction Box (with gasketed cover) are 6 inches in diameter to allow almost any type of camera to be mounted (1-1/2" access holes are pre-drilled in each disc to allow for cabling access.).
The PTZ Mount is a 1-1/2" NPT male connection (also comes with a joiner with set screws to allow male-to-male attachment), and we also have optional reducers to accommodate any PTZ's that may have 1" connections (GE, etc.). A cover for the PTZ connection is provided if it will not be used.
The Junction Box that is the structure that any cameras are mounted to is a 3" x 6-1/2" Junction Box that has a gasketed cover that is screwed on. This provides a handy cavity to accomplish all the wiring and connections needed.
For more information on the camera pole attachment, contact one of our Sales Engineers toll-free at 844-6696-3537 or stop by our website at strongpoles.com.