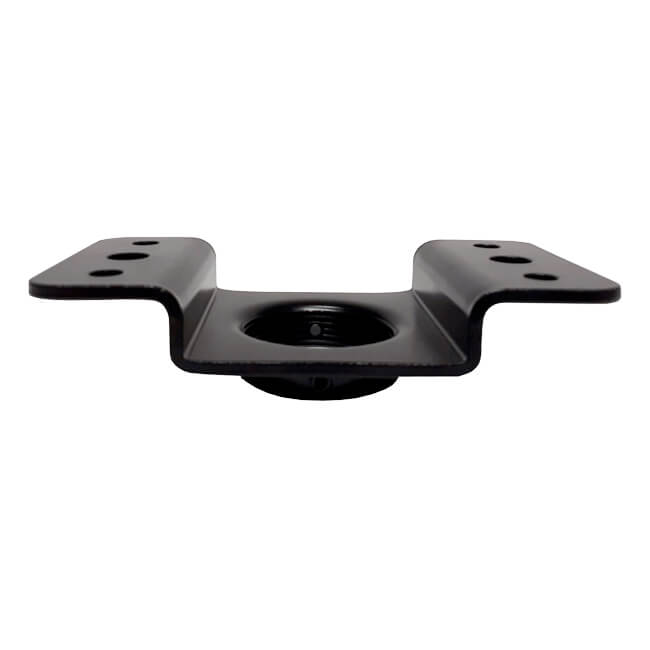 Strong Strut Security Equipment Mounting Bars
With Egyptian Style 1-1/2" NPT Pipe Drop Fitting
This type is Perfect for Mounting Speakers, Boards or almost anything else – via a Pipe Drop of any length – Indoors or Outdoors
 These Mounting Bars with the threaded Egyptian Style Pipe Drop fittings are perfect when you need to suspend something at a certain height. They are available in single Strong Strut sections and Double Strong Strut Sections.
All types of our versatile Mounting Bars are the same length, no matter the attachment type. The small size Mounting Bars are on an 8" long section of Strong Strut, and the Large size Mounting Bars are on a section of Strong Strut that is 16" long.
 You can mount almost anything below these Mounting Bars, such as Speakers, Wood for using them to attach and electrically isolate something, or any other device or enclosure..  If the device, cabinet, wood section or enclosure is small enough, you may only need the single Bar type. However, some wider pieces may need two Strut Sections for stability. Many end users mount boards or plywood to these to give them a platform for mounting other types of devices.  The only limit is your imagination.  Let us know how you used these Mounting Bars.
  The weight limits when mounting something to this type of Mounting Bar (with the Egyptian Style threaded Pipe Drop attachment), the small size single is limited to 50 pounds, or 100 pounds total if using the two Strut Section model.  The large size single can hold 100 pounds, or 200 pounds total when using the two Strut Model.
Choose between White or Black Rubber End Covers.