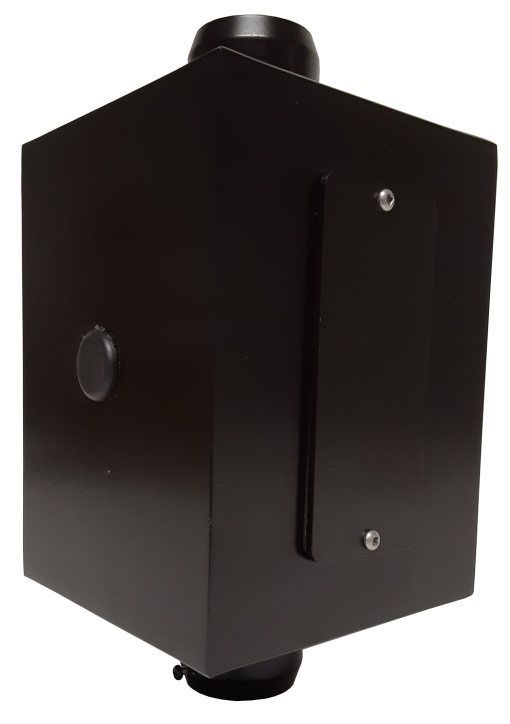 Multi-Purpose 6×8 Box (MP-68)
Can be used as a Mounting Platform or Large Junction Box
Use it Inline or at the end of String.
This aluminum Multi-Purpose 6×8 inch Box (MP-68) can be used for a variety of purposes.
Here are just a few:
– Camera Mount (up to 3 sides – 4th side has an Access Door for wiring access).
– Large Junction Box for wiring and/or small switches, POE Extenders, etc.
– Mount Antennas or even small Equipment Enclosures to the sides
Any Camera, Cabinet, or other devices may be attached to this box (NOTE: This Box is not as thick as the much larger 8×10 Multi-Purpose PTZ Box, so any camera short of a heavy PTZ will work).
This Multi-Purpose 6×8 Box comes with 3 Plugs inserted in the three pre-drilled access holes (1-inch holes). Remove the plug from any holes you intend to utilize.
If you want to use this Multi-Purpose Box inline, you won't need anything else. If you're going to use it as the bottom of a string, order it with the bottom plug.
Available in White or Black. The total weight of cameras or devices attached is up to 30 pounds. Total suspension weight, when used in Inline, is 250 pounds.
This Multi-Purpose 6×8 Box is equipped with 1-1/2″ threaded couplers welded on both ends that are complete with set screws that will lock the upper and/or lower pipes down and prevent loosening or twisting of the pipe.
The large Access Hole and Cover are our standard sized Access openings (opening is approx. 2″ x 4″ and the cover is 2-3/8″ x 5-1/2″ and is attached with two screws).
For more information on the Multi-Purpose 6×8 (MP-68), contact one of our Sales Engineers toll-free 844-669-3537 or stop by our website at strongpoles.com.