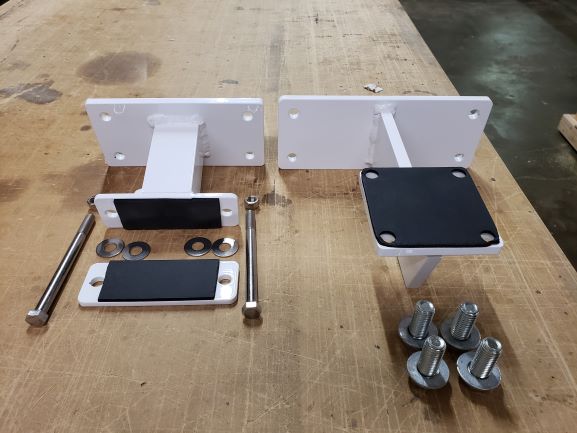 Strong Poles wall mount brackets for 4″ Square Poles.
The Wall Mount Bracket System is an alternative way to install our 4″ Square Pole Series when you can not use the fixed base or the tilt over base. For example, you need a pole on top of a building, you can not just pour concrete and use our anchor basket system to install on top of the building, so why not use a wall.
So here is where our Wall Mount Bracket System comes into play. The two-piece system works like this; the bottom bracket will bolt up to the holes on our 4″ Square Poles then attaches to the wall with bolts or anchors (not included), then the top bracket is to be mounted about 25″ to 30″ minimum distance from the lower bracket. With the top bracket mounted to the wall by using bolts or anchors (not included), the flat bar and long bolts will secure the pole against the wall.
These Wall Mount Brackets are designed to be used with all the lengths (5ft, 8ft, & 12ft) in our 4″ Square series of poles. They are available in dark bronze or white.
The Wall Mount Bracket System opens the door up for placing your surveillance system or any devices where it will benefit you the most. If you have questions, please contact one of our Sales Engineers here at StrongPoles toll-free 844-669-3537 or stop by our website.