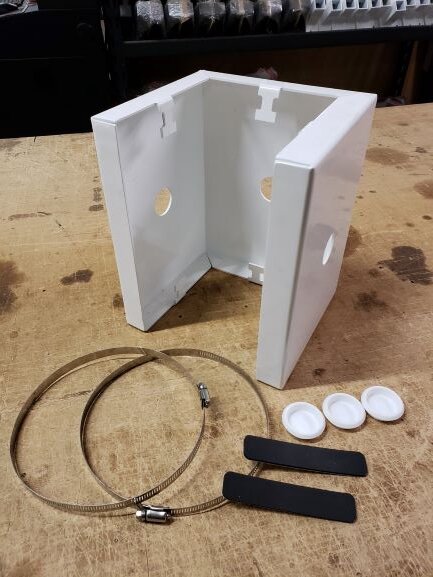 SteadyMax Multi-Camera Mounting Platform
Height Adjustable
The Wraparound Mounting Platform for SteadyMaxCamera Poles lets installers choose the exact height they need for cameras, sensors, or even antennas.
Then, if needed, you can add additional Wraparound Platforms at other heights. If you have cameras, antennas, or lights at the top of the pole, you can have multiple sets of cameras at lower points. For instance, surveillance cameras at a higher vantage point, and license tag capture cameras at a lower position.
This innovative Wraparound Mounting Platform makes it possible to configure almost any setup you will ever need or encounter. The three mounting faces can be used for cameras, attachments, sensors, speakers, or any number of other devices; then, if needed, you can attach a cabinet to the open side via self-drilling screws.
The Wraparound Platform has a 100-pound load limit, and will allow any PTZ's or mounts Strong Poles makes. It can even fit any mounts from other Manufacturer.
For more information on the camera mounting platform, contact one of our Sales Engineers toll-free 844-669-3537 or stop by our website at strongpoles.com.