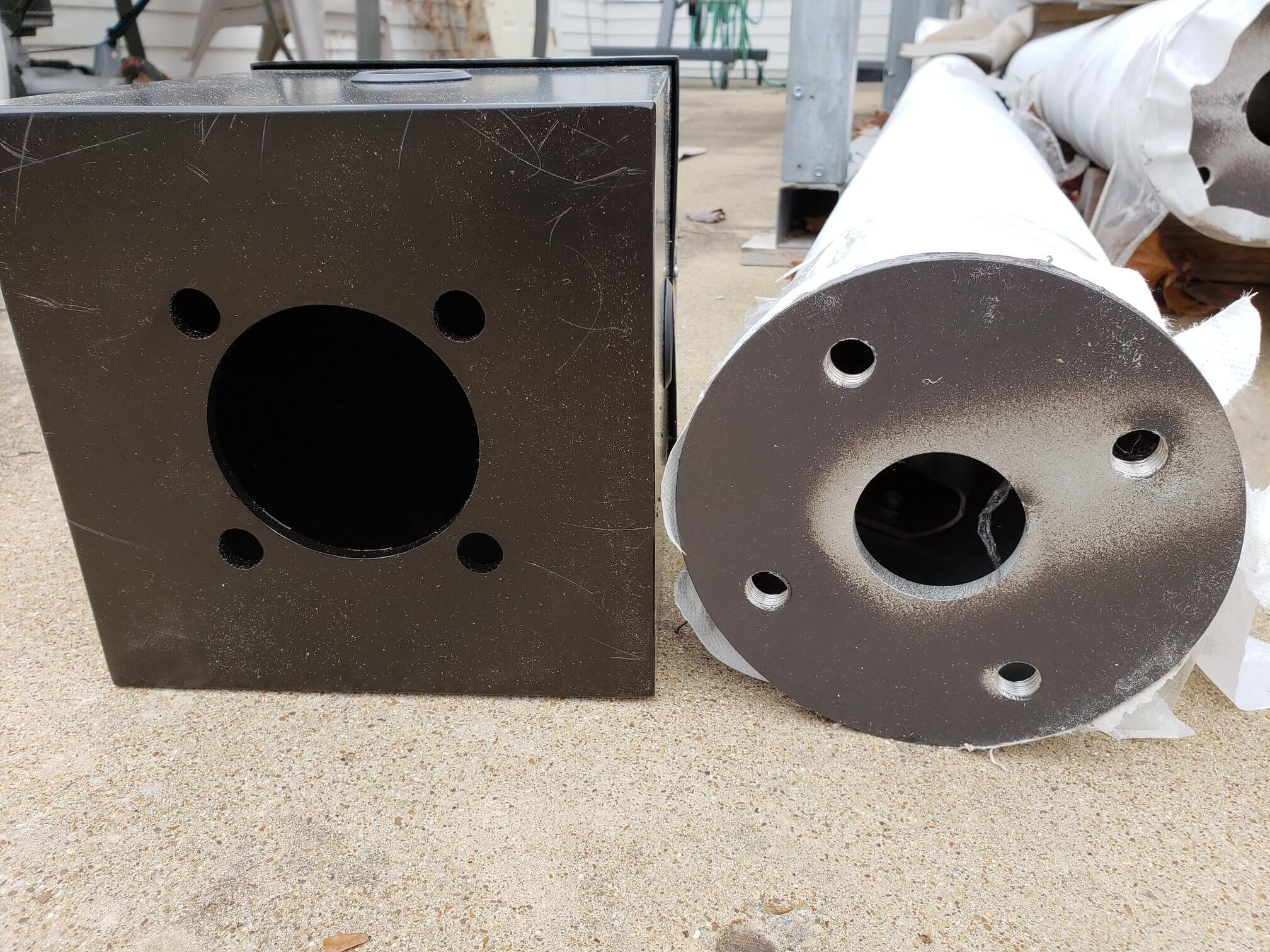 Our Engineering Staff has designed the SteadyMax SP-SM20 and SP-SM25 for those applications where great heights and distances are needed. These camera poles, along with the line of accessories for PTZ top mounts, will get you up close to the action in the distance.
The 20′ and 25′ SteadyMax Camera Poles are a round tapered pole, and is approximately 8″ O.D. at the bottom, and tapers up to a 6″ O.D. at the top. If not using any of our accessories at the top of the pole, you have a plate that can be installed to cover the top of the pole. This 20′ pole is heavy wall (.156 thick) construction, and the 25′ pole is an ultra-heavy wall (.250 thick – 1/4″) using 6063-T6 aluminum and can be ordered in our usual White, or Black (Dark Bronze) Powder Coat finishes. The standard Hand Hole is 18″ from the base.
To install those heavy Pan Tilt Zoom Cameras, we have a line of top mount accessories to show you. The first one is going to be the 8X10 Mounting Platform (BirdHouse) with the optional RuffRide Mount. The BirdHouse has four mounting sides; the RuffRide Mount is a flat plate that can be installed on any side of the BirdHouse, which, if needed, you can install as many as four PTZ.
Another top mount accessory is the HD Single Mount, made up of two heavy plates with a square channel in the middle for running the wire harness for the PTZ camera.
To install two PTZ cameras, we have the HD Twin Mounts. With two heavy mounting plates and to hide the wire harness, there is square tubing. To mount to the top of the pole, there is another heavy mounting plate.
There are more top mount accessories in our line-up; these three are our top sellers. To get more information on our camera pole lines and any of our camera pole accessories, contact one of our Sale Engineers toll-free 844-669-3537 or stop by our website strongpoles.com.