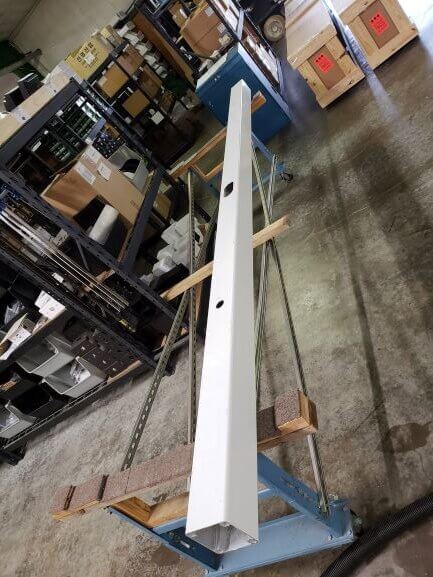 The advantages of aluminum poles make them the perfect option for direct buried applications. With a record of successful installations throughout the country, Aluminum Direct Buried Poles provide industry professionals with significant overall job savings. Aluminum Direct Buried Poles are the perfect solution to the high maintenance alternative of composite poles. Utilities, Developers, and Contractors can benefit from the saving associated with the highest quality, longest-lasting, and lowest maintenance. The 5″ square design allows camera mounting direct to the poles and prevents twisting one installed.
The direct buried alternative for residential applications.
Ease of installation.
Eliminates the need for foundations, requiring no Civil Engineer and no PE stamp, resulting in cost savings of $300 – $1000.
Eliminates the need for bolt circle templates and anchor bolts.
Speeds up the installation process while eliminating the additional freight charges of anchor bolts shipped in advance.
No need for the use of shims or double nuts for leveling.
Eliminates improper bolt projections that, in many instances, result in high and uneven base covers.
Saved the need of time and expense to grout.
Eliminates the possibility of foundation and anchor bolt replacement in the event of
a knockdown.
Allows aluminum to have cost-competitive with composite and concrete while providing a more appealing and aesthetic appearance.
Eliminates the possibility of improper pouring/setting of foundation.
It allows simple future retrofits by eliminating the need to match an existing bolt circle.
With five-length to choose from, you will find the perfect Aluminum Direct Buried Pole for your project. For more information on these poles, contact one of our Sales Engineers toll-free at 844-669-3537 or stop by our website strongpoles.com.