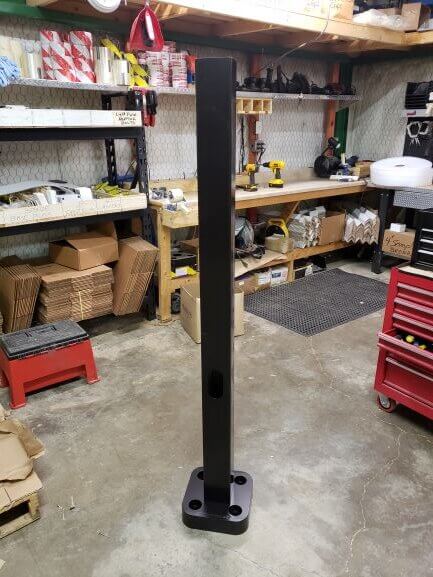 Built out of a special Aerospace Aluminum, these 4″ Security Camera Poles are designed to reduce movement and shake, commonly found with many light poles. Using Strong Poles solves a whole host of problems with using existing light poles and hose clamps for your security cameras, sensors, and detectors. Whether wired or wireless, Strong Poles provide a purpose-built solution to your security installations. We are so confident that you will get a long lifetime of rust-free life from these super strong poles. We back them with a 20 Year Structural Integrity Warranty (3 Year finish and material warranty – all warranties are limited to replacement and/or repair).
Currently, Strong Poles are building four main heights of our 4" Square Poles:
5′ tall poles that are perfect for license plate cameras or even wall mounted
8′ tall poles that are perfect for wall mounting, many other uses
12′ tall poles that are perfect for license plate capture, gate and pedestrian entry/exits, and facial recognition
Here are just a few of the features that have made Strong Poles the Leader in the security industry:
Designed by Security Installers to fit any technology – any brand – Wireless or Wired
Patented "No-Welds" Technology yields more inherent strength than any other pole (35,000 psi yield strength)
Internal Corner Tubing Shafts molded-in – for even more strength (transfers all loading into the corners)
Made of a unique Aerospace Aluminum (6005-T5) that results in a lighter pole yet will support heavier loads
Baseplates utilize a 356 Aluminum Alloy that exceeds the Maximum Pole Loading – Unequaled Longevity
Each Strong Pole comes with a 2" x 4-1/2" Handhole opening for making connections to Power and any other topology, such as Coax, Cat5/6, Wifi, Fiber, etc.
Gasketed Handhole Cover fastened with Stainless Steel screws – No additional reinforcing is required,
Choice of colors Anodized Bronze or Powder Coat White
For information on our 4″ Security Camera Poles, contact one of our Sales Engineers toll-free at 844-669-3537 or stop by our website at strongpoles.com.