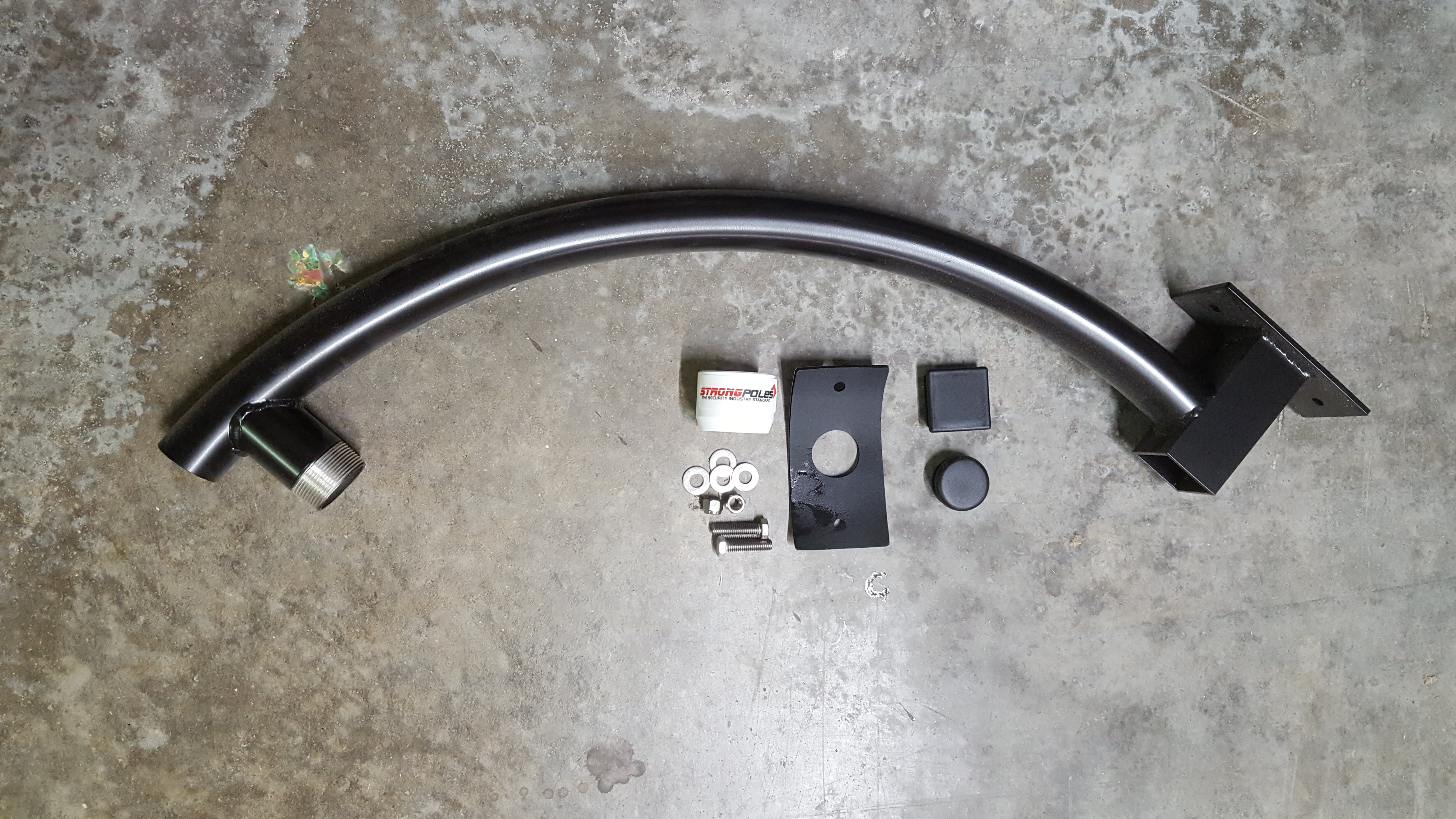 Strong Poles has designed a camera pole accessory for a PTZ Camera (1-1/2" NPT Threaded pipe) or to fit our Panoramic Camera Mounting Box, which is designed to hold any camera with a screw-on attachment. The size of the threads is 1-1/2" NPT, but a reducer can be used to fit other sizes as well as a Female Coupler.
This stylish "Fly-Out" mount is designed to get the mounting arm a reasonable distance away from the camera so that it does not block a large portion of the surrounding view.
The supplied 1-1/2" NPT pipe fits many conventional PTZ Cameras, Dome Cameras, and Panoramic Cameras. It can also be easily adapted for others.
This Fly-Out Mount can be combined with our Panoramic Camera Mounting box to provide a mount and drop-down service door for virtually any 360 or 180 degrees Panoramic Camera.
Can Be Used With Many of Our Other Attachments.
This Fly-Out mount gets the camera away from the pole or mounting origin, such as the Wall Mount Adapter, or even out over a Parapet wall using our new "Surface Mount Short Poles (15" and 30" tall). The Wall Mount Adapter is only used to mount to a structure; otherwise is not needed.
The Fly-Out can be pole mounted to provide up to 4 camera attachments. It can also be used on our new "Corner Mount" with up to 3 camera attachments.
The Fly-Out has many more uses than the FlyOver mount and is a stylish way to mount PTZ, Dome, or Panoramic cameras.
To get more information on the camera pole accessory, contact one of our Sale Engineers toll-free 844-669-3537 or stop by our website strongpoles.com.