Strong Poles is now Manufacturing a new line of Keypad & Reader Poles/Pedestals. All of our products are Made in the USA, right here at our Texas plant. Have a model that you need, but don't see here? Let us know.
These aluminum stanchions & poles are made out of thick aluminum, and will not rust like most of the steel pedestals you see. They are thickly powder coated in a black hammered finish.
Our Gooseneck Pedestals Come in Curb Mount, Pad Mount and Direct Bury Gooseneck Models – Shafts are made from 1-1/2' aluminum pipe (1.9" OD / .145 wall thickness) All heights are to center of faceplate.

Curb Mounted 36" Model
Made shorter than the regular 42" Car Height Model for when the car is at street level, and the reader is mounted at curb.
Pad Mounted 42" Model
This height is usually standard for the height of a single keypad model that is between car and pickup height.
Pad Mounted 48" Model
This height is usually standard for pickup trucks.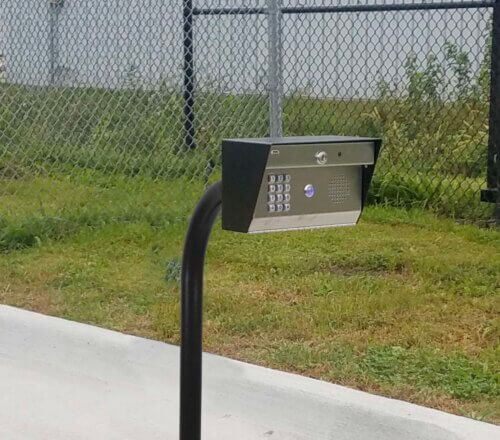 *Keypad not included*
*3/8 to 1/2 concrete anchors are recommended but not included*
These Strong Pole Keypad & Reader Poles are Warrantied for 5 years for material and paint finish. MADE IN THE USA