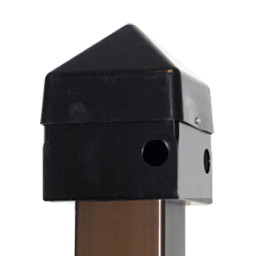 A true bolt-on junction box for the top of the pole is our 6×6 Junction Box. The Junction Box that fits Strong Poles equipment is the easiest way to install your electrical devices. The junction box gives you added protection for the wire harness and room to add surge protectors or even a tiny POE injector. 
The 6×6 Junction Box is a handy bolt-on box that can be used in many different ways. The outside faces can be used to mount IR illuminators, directional antennas, small footprint cameras, long-range motion detectors, or other small security devices. With 1/8″ thick walls that make it easy to use self-drilling screws to mount those electrical devices. 
It comes with a pyramid top that makes the overall height nine inches; the aluminum box itself is six inches wide and four inches tall.  
Inside dimension are 5-3/4″ (W) x 5-3/4″ (L) x 3-3/4″ (H). 
All four surfaces have an access hole (actual hole size is 1.125″) with a standard 3/4 inch; you can use the plugs that come with the box or change them out for conduit fitting, wire gland, or even liquidtite fittings. 
Available option colors are dark bronze/black or white.
For more information on the Junction Box that fits Strong Poles equipment, contact one of our Sales Engineers toll-free at 844-669-3537 or stop by our website at strongpoles.com.