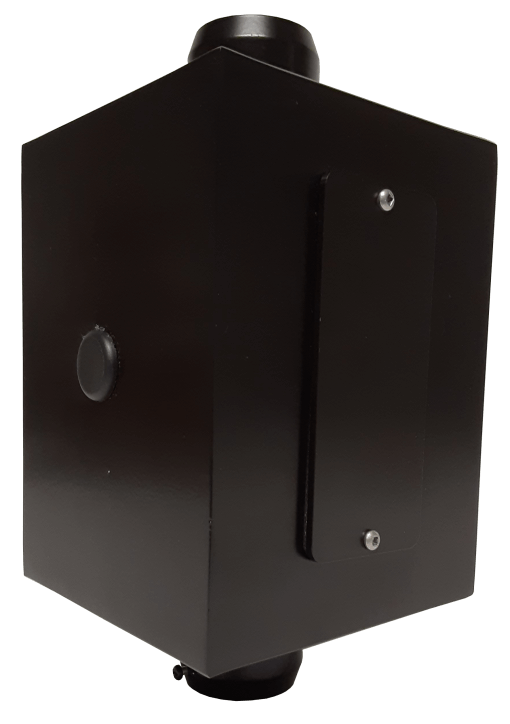 Nobody wants to see ugly wire from a wired system, so to help with that, Strong Poles has an Indoor Camera & Media Mounting Systems. Design the system that best fits your needs to install cameras, projectors, speakers, TVs, equipment enclosures, or cabinets. The Multi-Purpose 6×8 Box is one piece of our system for indoor mounting. They are used in big box stores, industrial facilities, military bases, churches, and restaurants. 
The Multi-Purpose 6×8 Box (part# IMS-MP68) is equipped with two 1-1/2″ threaded couplers welded on both ends that are complete with set screws to lock the upper and lower pipes down and prevent loosening or twisting of the pipe. If you will use it as the bottom of a string, order it with the bottom plug.
The MP-68 mounting surface is eight-inches tall and six-inches wide; three surfaces are pre-drilled with one-inch access holes with plugs. The fourth side has an access hole the size of four-inches tall and two-inches wide. The access hole has a cover the is 5-1/2inches by 2-3/8inches comes with a gasket and two screws. The overall length from coupler to coupler is 11-1/2inches.
Two available colors of dark bronze/black or white.
For more information on the Indoor Camera Suspension Systems, contact one of our Sales Engineers toll-free at 844-669-3637 or stop by our website at strongpoles.com. 
Strong Poles is the Outdoor Mounting Accessories leader, which now brings you the Indoor Mounting & Suspension Systems.