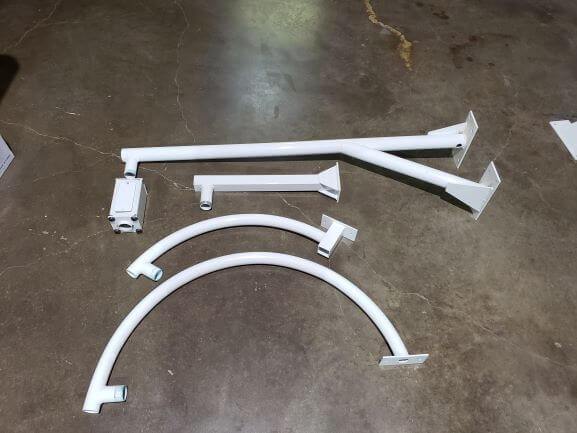 Here at Strong Poles, we have your Indoor Mounting Solutions; our Modular Junctions give you a clean and professional look for terminating the entry or exit points for cabling when installing Pan Tilt Zoom cameras or other devices inside. The Modular Junctions can be added to one of our many PTZ mounts to give you added space for the wiring harness.
There are many ways to use these Junctions. Here are just a few of the ideas:
An inline junction box to make connections or transitions
Bring Cables out or in for Camera Connections (via Glands, Conduit, or other)
The conduit or Liquid-Tite Hose to an Enclosure
Bring Cables out to a Switch or POE device
Protect Cables feeding TV's, Antennas, Power Supplies or other Ancillary Equipment
Used either inline or at the end of a drop for connecting Panoramics, Sensors, or WiFi
Here are a few of the PTZ mounts that can be used with the junction:
2FT Arm: With the arm using inside, add the Flourish Scroll to dress up the install a bit.
Fly-Over: This design allows total 360-degree views, with the tubing being far enough away that only a tiny slice of sight is obstructed.
Fly-Out: This is designed to get the mounting arm a reasonable distance away from the camera, not block a large portion of the surrounding view. (May need to order the wall mount adapter)
Reacher: This five-foot-long PTZ mount can be used in a vast factory to get your device out to see more of the room. It can be ordered with a flat plate or with a corner mount base.
Need to add two devices; you can use the Twin Adapter for that to any of the above PTZ mounts.
Each Pipe connection on a Junction (or any other threaded connection) has 2 set screws that must be locked after tightening and positioning. This keeps any threaded connections from coming apart from vibration or twisting that could occur, such as with PTZ Cameras changing directions rapidly.
For more information on the Modular Junction, contact one of our Sales Engineers toll-free at 844-669-3537 or stop by our website at strongpoles.com.