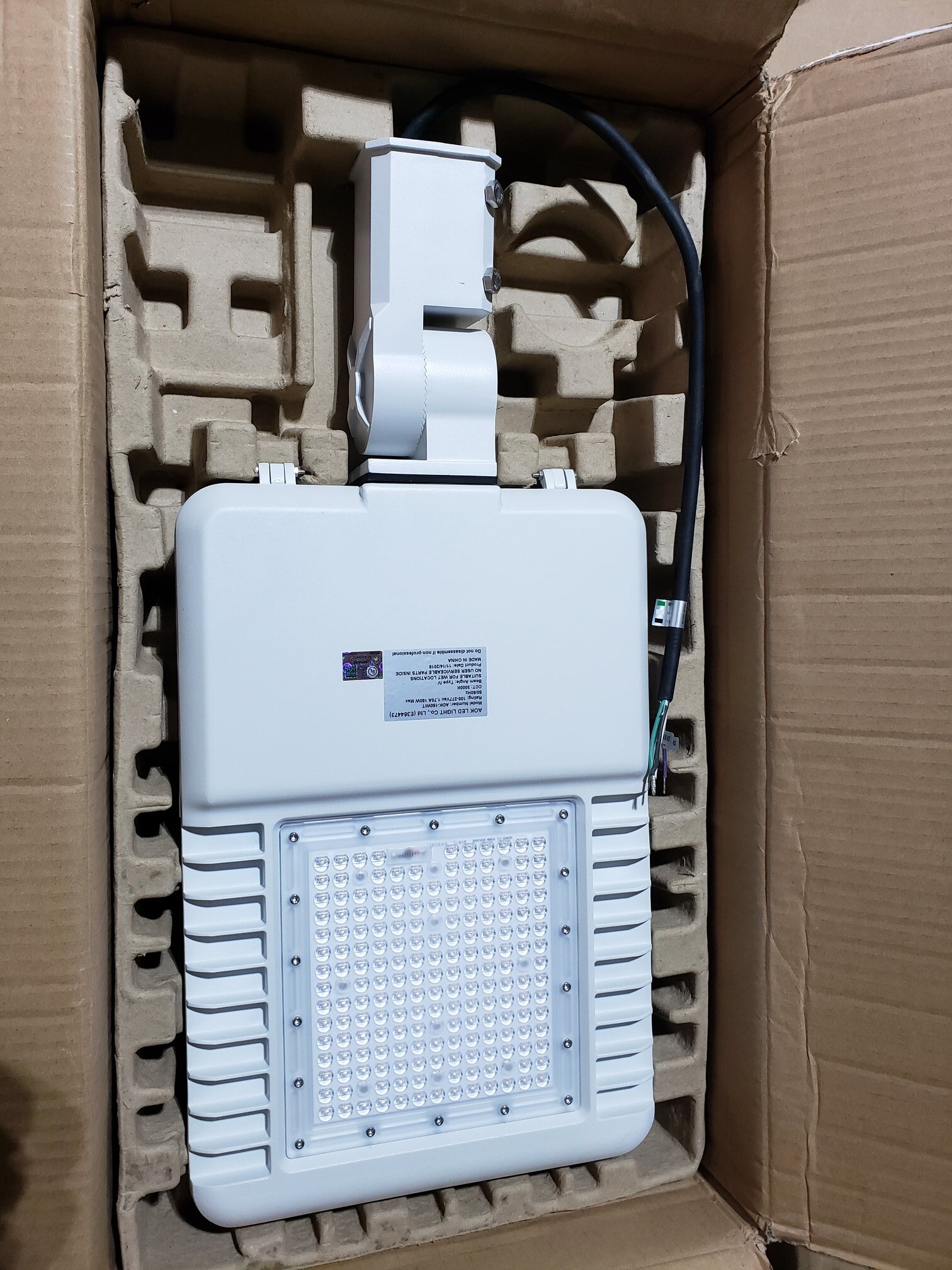 Did you know that not only can you get your camera security poles and security mounting accessories from us, but you can also get LED Parking and Area Lighting from us as well?
The design of these LED lights is manufactured, especially for our SteadyMax poles, so that they are low profile, lightweight, and designed to be aerodynamic so that they don't shake the pole. They are also UL Listed, as well as CE Certified, and are low wattage for energy savings.
These lights are lightweight; our two in-stock lights are 14 and 21 pounds and are small in size as well 150 Watt unit is 22 inches x 10.9 inches x 2.95 inches, and the 265 Watt unit is 25.1 inches x 13.8 inches x 3inches.
Our in-stock LED lights come in two wattage options; the 150 Watts replaces 400-500 Watt halides or old ballast/ bulb types, and the 265 Watts replaces 1000 Watt metal halides or old ballast/bulb types.
Our in-stock LED lights have the following features, 5000K color temp (Daylight), with a 2-3/8 inch tenon slip-fit mount, accept and voltage from 100-277V AC, and 130-degree x 75-degree beam angle.
These lights are usually in-stock, but you can order any combination you need, and we can get them here within days.
Now let us talk about how to install your new LED Light on top of your SteadyMax pole. Our engineers have designed a steady but stylish 7-inch tall Tenon Mounting Pedestal along with the optional 6-inch Horizontal Tenon. The Tenon Mounting Pedestal made from our Classic 4-inch Square Camera Pole with the internal corner tubing shafts molded-in for even more strength. The Tenon Mounting Pedestal bolts directly to the top of the SteadyMax or 4-inch Camera Poles to provide a mounting pedestal with four sides for mounting positions. This gives you a multitude of configurations to choose from, but for mounting the LED light, we will mount the 6-inch Horizontal Tenon with the Tenon Mounting Pedestal. This style of the light mounting tenon is the standard of the industry and achieves most light mounting configurations you will need. This 2-3/8″ Heavy Duty Tenon (T-20), will hold all types of lights – including our LED versions.
For more information on the LED Parking and Area Lighting, or the Tenon Mounting Pedestal contact one of our Sales Engineers toll-free 844-669-3537 or stop by our website strongpoles.com.