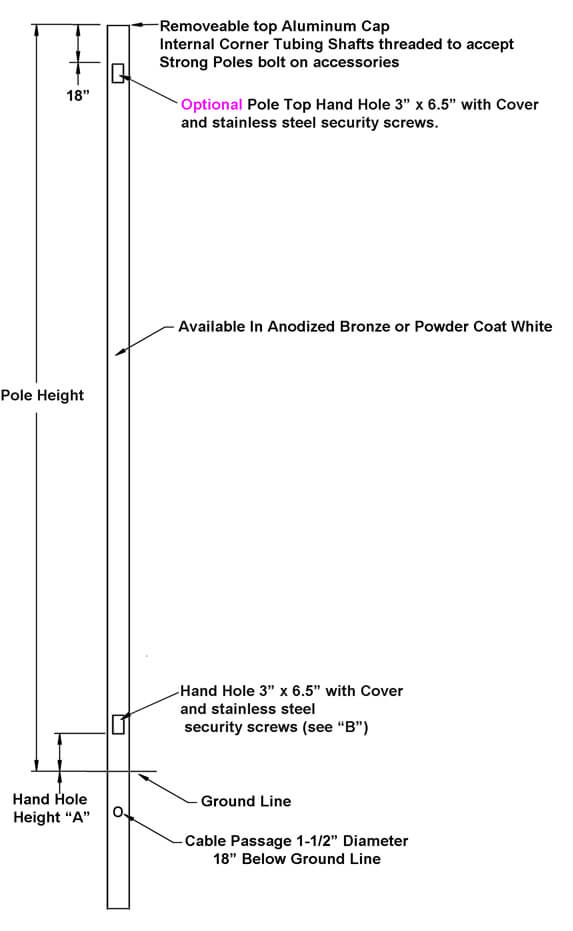 The SP-DB16 (20ft) is part of our series of Direct Buriable 5″ Square Camera Poles. With overall length being 20ft so you have 4ft of bury depth and 16ft above ground height. The 5″ square design allows camera mounting direct to the pole and prevents twisting once installed.
The Direct Buried alternative for any application, ease of installation, eliminated the need for foundations, and no need for bolt circle templates or anchor bolts.
Here are some advantages of an aluminum pole; they are corrosion resistant, low maintenance, lightweight, with greater manufacturing flexibility.
Here are just a few of the features that have made Strong Poles the leader in the security industry: designed by security installers to fit any technology, patented "no-welds" technology yields more inherent strength than any other pole, and internal corner tubing shafts molded-in for even more strength (transfers all loading into the corners).
The SP-DB16 is the ideal height for most surveillance and security applications — available powder coat dark bronze or white in color. The cable passage is 1-1/2″ diameter 18″ below ground line, the hand hole is 3″ x 6.5″ with cover and stainless steel security screws, there is an optional pole top hand hole that is the same size, and the top has a removable aluminum plate all to make the pole easy for wiring purposes.
For more information on the embedded pole (direct buriable pole), contact one of our Sales Engineers toll-free 844-669-3537 or stop by our website strongpoles.com.