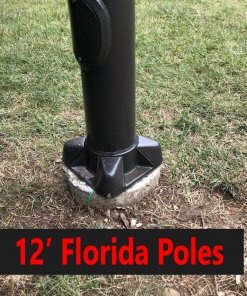 The building codes for the State of Florida are the toughest in the United States. Our Engineers here at StrongPoles have designed a pole for those building codes. The SP12FL Camera Pole passes Florida Building Code 2017 Specifications for a 190 MPH Wind Speed.
This 12′ SteadyMax Pole is the strongest, most rigid pole we have ever made. This incredible SteadyMax Pole can carry a full load of cameras, cabinets, sensors, and antennas, yet still maintains our proprietary 3% movement under 190 mph winds.
To properly install the cameras, cabinets, sensors, and antennas, we have a full line of SteadyMax Pole Accessories. Build strong to provide a sturdy, steady security mounting platforms. One of the most common accessories we sell with these poles is the HD Single Mount; these are built for the top of the poles to install Pan Tilt Zoom cameras.
These engineered camera poles also have a Factory-Installed Vibration Suppression System (Read More) that consists of two different frequency dampeners that quell high and low-frequency vibrations and oscillations that may occur during the life of the pole.
The result is the Steadiest, most rigid pole we have ever built, yet is very lightweight (our 12′ pole weighs only 65 lbs.). This is a fantastic Engineering feat to make a pole this steady, yet this lightweight.
It comes with our exclusive 20 Year Warranty and includes the anchor bolts, anchor template matching hand hold cover, bolt covers, and four leveling shims.
For more information on the SteadyMax 12′ Florida camera pole or any of the device mounting options. Contact one of our Sales Engineers toll free 844-669-3537 or stop by our website at strongpoles.com.