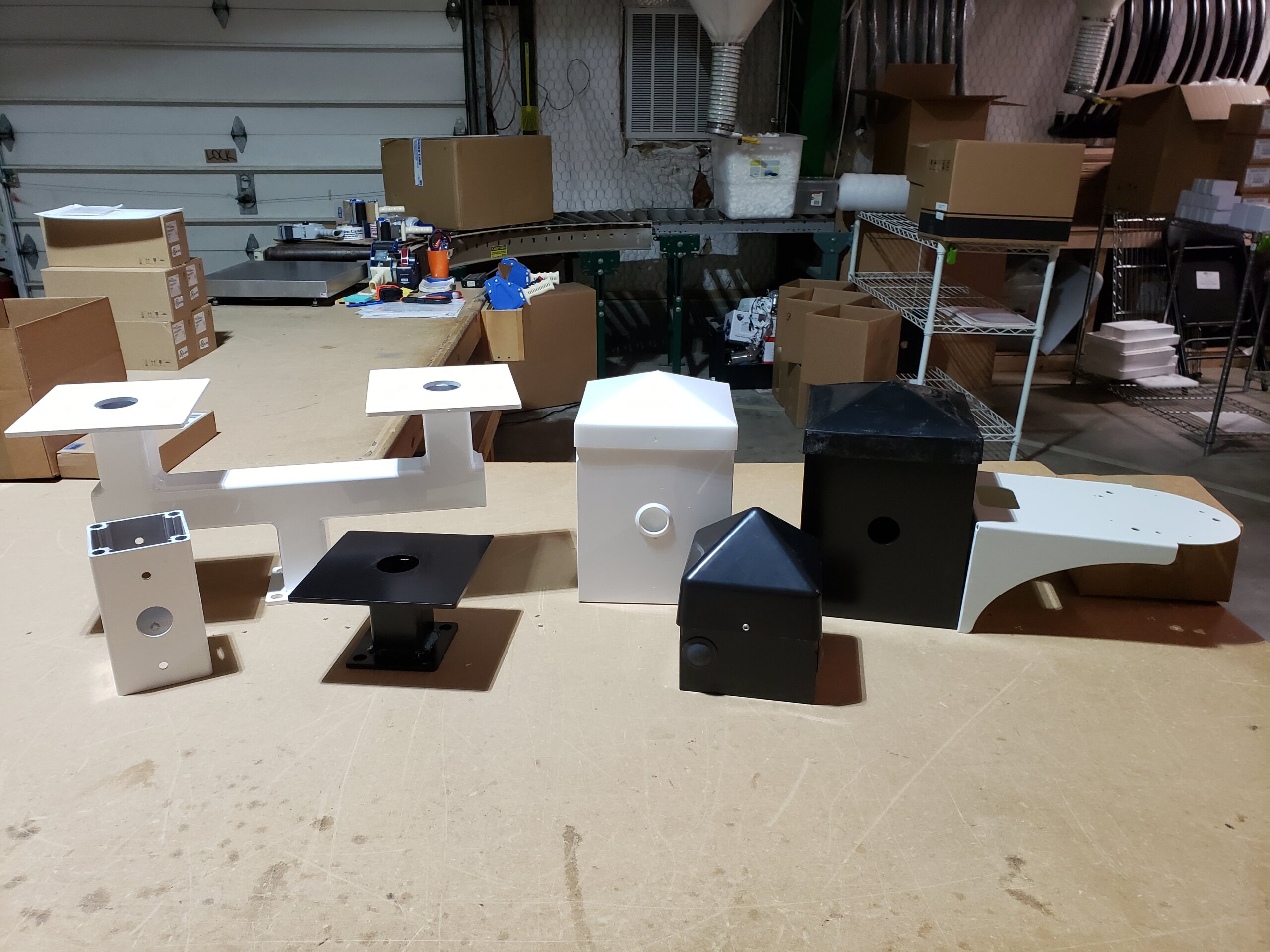 Security equipment dealers, integrators, and installers have found a purpose build pole that is finally available to mount their security cameras and other security devices on.   StrongPoles is not your average telephone pole or light pole, but purpose-built Security Camera Mounting Poles. Innovative poles with modular bolt-on accessories that make up a complete Security Mounting System.  Built strong to provide a sturdy and steady security mounting platforms.
Here is a list of features that have revolutionized the mounting of security cameras and all types of security-related devices.
Both SteadyMax and the Classic 4″ Square Poles are designed by security installers to fit any technologies – ANY Brand. Strongest poles available – with an exceptionally high wind rating, like the SM12FL that is rated for a full camera/equipment load under 190mph winds. With both the SteadyMax and the Classic 4″ Square pole they have Patented "NO-WELDS," technology yields more inherent strength than any other pole (35,00 psi yield strength). The internal corner tubing shafts molded-in is a unique design of the Classic 4″ Square Pole for even more strength (transfers all loading into the corners). The SteadyMax is 6063-T6 aluminum, and the Classic 4″ Square Pole is 6005 T5 aerospace aluminum, which results in a lighter pole, yet will support heavier loads. These are just a few features for our poles both SteadyMax and Classic 4″ Square Pole.
A wide variety of top-mounted expansion modules can be ordered, the popular 8×10 Mounting Platform (Birdhouse) has proven to be very versatile because it provides a whole host of features and accessories in a compact pole-top platform. The Antenna Top Mount Mast options for wireless antennas and technologies. The Fly-Out / Fly-Over Pedestal and the Fly-Out Mount or the Fly-Over Mount mount is designed to get the mounting arm a reasonable distance away from the camera so that it does not block a large portion of the surrounding view.
These are just a few of the features we offer for your custom Security Camera Mounting Poles. Please contact one of our Sales Engineers toll-free 844-669-3537 for more information or stop by our website at strongpoles.com.