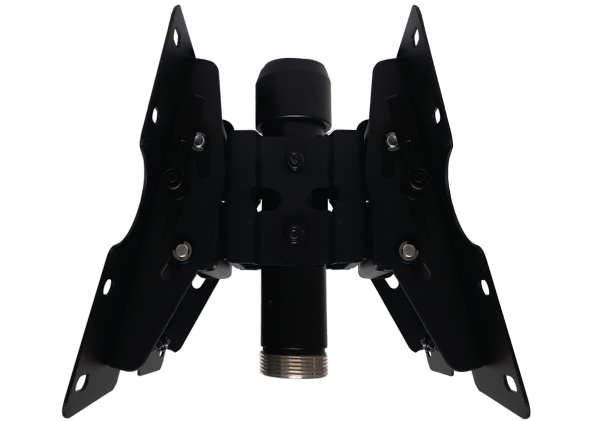 Single and Dual Models Available comes with an 8″ pipe extension with a 1-1/2″ coupler.
StrongPoles are the leaders in outdoor mounting accessories – and – now we are bringing you the NEW INDOOR MOUNTING and SUSPENSION.
These TV suspension mounts can be used to mount any size TV or Monitor. The single version can suspend a single TV or monitor or be used with other accessories to suspend 2 to 4 TVs or Monitors.
The dual TV suspension models can suspend two TVs back to back.
Other pipe drops, junctions, and camera mounts can be added below these TV suspensions mounts to add one or more cameras. This is useful when you need to live video on the screens.
The main plate of these TV suspension mounts has 2 sets of holes for smaller TVs (200 and 600 mm VESA), or you can employ the surrounding framework to accommodate for larger TVs.
The pipe portion is available in black or white colors. However, the TV mount is only available in black (as all TVs have black backs).
For more information on the TV suspension mounts, contact one of our Sales Engineers toll-free at 844-669-3537 or stop by our website at strongpoles.com.