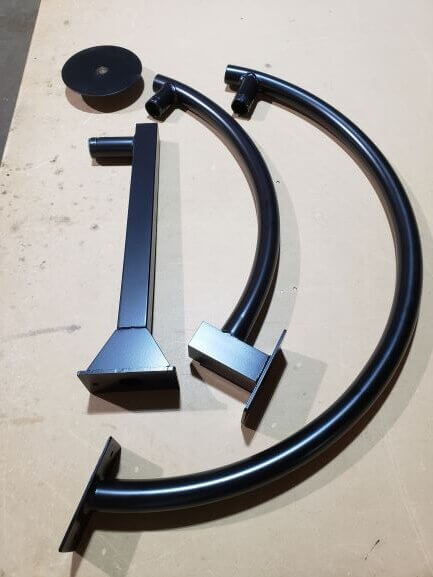 With more people installing cameras around their residents and business, we here at Strong Poles make it easy and stylish with camera mounting accessories. We will look at three different arms we offer with the added accessory of the Dome Camera Mount.
The first is the 2ft Arm with Dome Camera Mount: This combo simply takes our 2 Ft. arm and our dome or panoramic camera mount.
This arm takes your Cameras and attachments out to 2 feet from the Pole. It can be added to any 4″ Square Pole or any SteadyMax Pole with a Pedestal Mount. It can also be used "stand-alone" as a Wall-Mounted Accessory as well (no pole at all). The Flourish scroll is optional and dresses up this mount when used indoor or outdoor. It will support any dome or panoramic camera that can be mounted on the 6″ disc.
The second and third are the Fly-Over and Fly-Out arms with the Dome Camera Mount: designed to screw onto our stylish "Fly-Over or Fly-Out Camera Mounts." This round mount can accommodate virtually any Dome camera on the market. The 6" round mounting plate a 1″ diameter hole to pass through. This mount simply screws onto our Fly-Over or Fly-Out Camera Mount or to any 1-1/2" NPT pipe threaded pendant mount.
All of our Strong Poles and accessories are constructed with aluminum so that rust and corrosion will never be a problem in the field.
For more information on these camera mounting accessories, contact one of our Sales Engineers toll-free at 844-669-3537 or stop by our website at strongpoles.com.