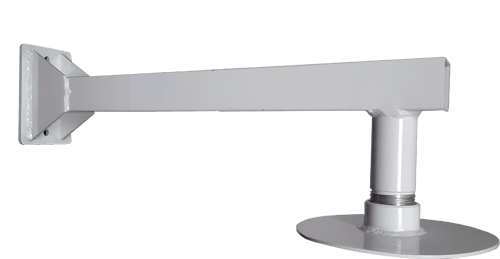 The 2ft Arm Gusset, the Flourish, and the Dome Mount are all three pieces that are sold separately to make one stylish piece for an outdoor camera mounting system to use with our Classic 4″ Square Poles or our Steady Max line.
The 2Ft Pole Arm camera mount can be purchased with an optional S Flourish. The 2ft Arm is made from 2inches aluminum tubing, with a mounting base of 6inches tall. Optional color choices are white or dark bronze (black). When purchasing, the mounting arm comes with a couple to fit the 1-1/2inch threads (a reducer can be used to fit other sizes and a female coupler) along with the coupler, a bolt kit that has two bolts, two washers, two nuts, a gasket, and a square plastic cap.
The Dome Camera Mount was made initially for the Fly-Over, Fly-Out accessories but also worked great with the 2Ft Arm as well. They are designed to screw onto the 2ft Arm camera mount. The round mount can accommodate virtually any dome camera on the market: the aluminum 6-inch round mounting plate and 1-inch diameter hole for a pass-through. Optional color choices are white or dark bronze (black).
For more information on the outdoor camera mounting products, contact one of our Sales Engineers toll-free at 844-669-2288 or stop by our website at strongpoles.com.