Direct Burial Camera Pole
Strong Poles has the advantage over other poles because our exclusive Aluminum Direct Burial Camera Pole design makes them the perfect option for direct buried applications. Utility poles like composite or wood poles are not designed for cameras or other devices. The most common problem is the vibration of the poles; with Strong Poles Aluminum Direct Burial Camera Poles, there is no movement.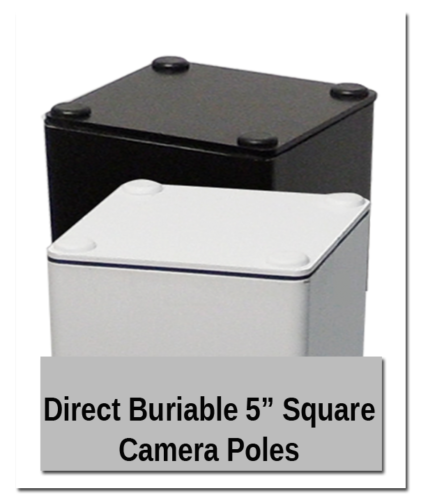 With a record of successful installations throughout the country, Strong Poles Aluminum Direct Buried Poles provide industry professionals with significant overall job savings.
Strong Poles Aluminum Direct Buried Poles are the perfect solution to the high maintenance alternative of composite poles. Utilities, Developers and Contractors can benefit from the savings associated with the highest quality, longest-lasting, and lowest maintenance.
The 5″ square Aluminum Direct Burial Camera Poles allow camera mounting directly to the pole and prevent twisting once installed.
Direct buried alternative for residential applications.
Ease of installation.

Eliminates the need for foundations, requiring no Civil Engineer and no PE stamp, resulting in cost savings of $300 – $1000.

Eliminates the need for bolt circle templates and anchor bolts.

Speeds up the installation process while eliminating the additional freight charges of anchor bolts shipped in advance.

Eliminates the use of shims or double nuts for leveling.

Eradicates improper bolt projections that, in many instances, result in high and uneven base covers.

Eliminates the need, time, and expense to grout.

Eliminates the possibility of foundation and anchor bolt replacement in the event of a

knockdown.

Allows aluminum to have cost-competitive with composite and concrete while providing a more appealing and aesthetic appearance.

Eliminates the possibility of improper pouring/setting of foundation.

Allows simple future retrofits by removing the need to match an existing bolt circle.
Direct Burial Camera Pole Installation
Make The Hole: 

Hole should be round with smooth vertical sides consisting of undisturbed soil for best compaction and stability of poles.
The diameter of the holes should be about two times the diameter of the pole at its base. Holes should be hand-dug or augur.
For general burial depth, consult the chart below

Overall Pole Length

Burial Depth =

12′, 15′, 20′ poles require a 4′ deep hole  //

25', 30′ poles require a 5′ deep hole


Wire the Pole: 

Complete wiring utilizing approved methods.

Install the Pole: 

In many cases, aluminum poles can be manually lifted into place and inserted into the hole.

Level the Pole: 

Use a plumb bob or level to align the pole.

Back-fill the Hole:

Concrete is the preferred back-fill material, brace pole until concrete sets.
---
Warranty
The Aluminum Direct Burial Camera Pole comes with our exclusive 20 Year Structural Integrity Warranty (3 Year finish and material warranty – all warranties are limited to replacement and/or repair). MADE IN THE USA. 
Share your Pictures
We have given you a few ideas of what you can do with the Aluminum Direct Burial Camera Poles; now, we would love to see what creative ways you have installed or added to our products and how you have used them. We have customers that have used our products in ways we have not thought of yet. It is nice to be able to get ideas from our customers. 
Shipping
The AluminumDirect Burial Camera Pole 12ft, 15ft, 20ft, and 25ft are ship via freight line. With package shipping weights ranging from LBS to LBS. The AluminumDirect Burial Camera Pole 30ft are ship via Hot Shot. With a package shipping weight of LBS. Would you please let your Sales Engineer know of any particular instructions we need to add for shipping to your location? We are not limited to shipping only with freight lines; you may have your order Hot Shot when ordering for a big installation job. We can also ship outside of the USA. Contact us for shipping rates.  
Code Compliance
When installing the AluminumDirect Burial Camera Pole, check your local code compliance officer for the correct installation guidelines and any permits you may need. Checking with the code compliance officer will save you time and money; your customer wants the job done right the first time. 
About Us and Contact Information
StronPoles is a Texas-based company in the business of manufacturing and providing Security Camera Poles that are the most rigid poles in the world. We also manufacture a full line of products for mounting electrical devices or other stylish and sturdy devices for inside or outside projects.
Using Strong Poles solves a whole host of problems with using existing light poles and hose clamps for your security cameras, sensors, and detectors. Whether wired or wireless, Strong Poles provide a purpose-built solution to your security installations. For more information on the Aluminum Direct Burial Camera Pole, contact one of our Sales Engineers toll-free at 844-669-3537.