StrongPoles are the one-stop-shop for building the strongest security camera poles in the world.
So it only makes sense that we would also provide the sturdiest, steadiest
camera mounting platform
, not just one but a full line of top mounting platforms. All aluminum and bolt hole patterns work with our 
Classic 4″ Square Poles
 and the 
Steady Max
 Series. 
Security Camera Mounts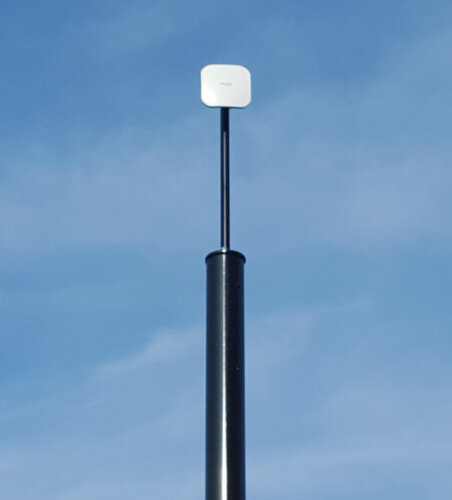 Strong Poles is committed to providing additional options for wireless antennas and technologies. Installers have traditionally mounted antennas to existing light poles by any means possible. Still, they have encountered difficulties because the pole sometimes blocks part of the signal – especially for Omni-directional antennas. Most of these antennas are designed to mount on a small 1″ -2″ mast quickly, and it is challenging to adapt them to other mounting scenarios. Providing the mast and getting these antennas in free air with no blocking structure is an advantage that speeds installations and increases height and signal coverage.
The Top Mount Mast is constructed with 1-1/2″ aluminum tubing and attaches to the top of any SteadyMax Pole or 4″ Strong Pole via a 4″ square plate that is 1/4″ thick and is fastened with four 5/8″ bolts (provided). This 30″ high mast is tall enough for the giant parabolic antennas, multiple patch antennas, or one or more Yagi antennas. The top end is capped with a weatherproof plastic cap insert. This mast is rigid and sturdy enough to hold even the most giant antennas without bending.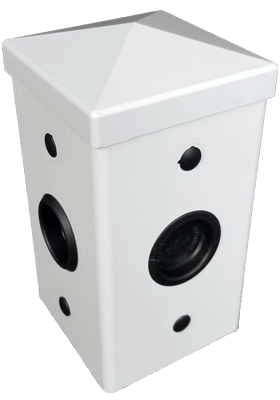 Strong Poles Accessory Mounting Pedestal is designed to bolt directly to the top of the SteadyMax or 4″ Camera Poles to provide a quick PTZ camera Mount using the PTZ Fly-Over Mount or the PTZ Fly-Out.
Every Pedestal kit has the Top Cap; one gasket and stainless steel hardware are included to mount the pedestal to the pole.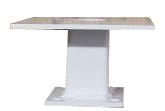 Strong Poles has responded to installers asking for top mount pedestals to mount small and large format PTZ cameras, Thermal cameras, Beacons or Strobe Lights, and other security devices. In response, we have introduced two bolt-on top-mount pedestals that will allow mounting any top-mount PTZ camera or security device.
The Square top-mount Pedestal has an 8″ square mounting plate for accommodating large, heavy PTZ Cameras and devices. This pedestal has a 4″ base that bolts on top of any 4″ Strong Pole, using 5/8″ bolts. The base and the pedestal mount are connected via a 4-1/2″ long, 1-1/4″ ID tube that allows wiring to be passed thru into the pole. This mount is also commonly used in conjunction with a Power Supply Box or Equipment Cabinet. Wiring is usually routed directly from the camera or device into the box or cabinet.
The Heavy Duty Square Top-Mount Pedestal has an 8″ square mounting plate to accommodate large, heavy PTZ Cameras and devices. These pedestals have a 4″ base that bolts on top of any 4″ Strong Pole, using 5/8″ bolts. Connecting the top plate and the base is a 4″ long square tube 1/4″ thick to give the pedestal the rigidness needed to handle the heftier equipment. And if a single pedestal is not enough for your needs, then take a look at our Twin Top-Mount Pedestal, which is of the same rigid frame but can now handle twice the amount of options(i.e., Large PTZ cameras, Thermal cameras, Beacons, or Strobe Lights and other security devices).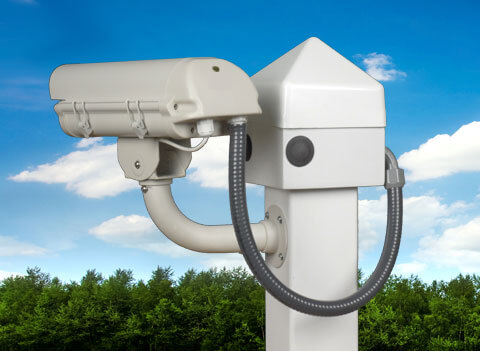 This handy bolt-on 6″ x 6″ x 4″ Junction Box can be used in many different ways. It can be used simply as a junction box to give installers more room to make connections, connect Camera Surge Protectors inline, or even to nest a small POE Injector. The outside faces can be used to mount IR Illuminators, Directional Antennas, small footprint cameras, Long Range Motion Detectors, or other security devices that can fit on each 6″ x 4″ face.
The Conduit Fitting access holes are standard 3/4″ electrical knockout size (actual hole size = 1.125″), and any 3/4″ Conduit fitting, Wire Gland, or LiquidTite fitting can be installed (with a backer nut). These knockout-sized holes come with weatherproof Heyco Knockout Hole Seals already installed.
This 6X6 Junction Box has 1/8″ thick walls, so it is quick and easy to drill your access holes or any bolt or screw holes that you need for mounting. You probably will not need to drill any holes at all because self-drilling screws work well for mounting devices on this Junction Box, then your wiring can be routed through the nearest knockout by removing the Heyco Hole Seal and installing a 3/4″ Cable Gland.
This Bolt-On Junction Box can be used by itself on the pole as a junction box for cameras mounted below it, or you can mount small footprint cameras or other devices directly to it. It can also be combined with other Bolt-On Accessories to provide a complete Security Mounting Solution.
This 8″ x 8″ x 10″ Bolt-On Mounting Platform, also known by our Dealers as "The Birdhouse," has been used in many different ways but is designed to provide four long, wide mounting faces for large, heavy PTZ Cameras, Equipment Cabinets, Power Supplies, Transmitters and Antennas and a myriad of Security Detectors, Sensors, and Other Devices. The Birdhouse can be mounted on to any of our SteadyMax Poles or 4″ Strong Poles.
The Security Industry needed something more stable, wouldn't rust out, and could handle more weight. This is where "The Birdhouse" excels.
The 8X10 Mounting Platform has proven to be very versatile because it provides many features and accessories in a compact pole-top platform. These holes come sealed with weatherproof rubber hole plugs that can be cut to allow wiring to pass through or removed quickly if you install a gland or fitting. It is a hefty duty, as it is made from 3/16″ aluminum, and 3 of the faces have pre-drilled 1″ Electrical Knockout holes for wiring access (actual hole size is 1.362″). They will accommodate any type of 1″ conduit fitting, wire gland or LiquidTite fittings.
The fourth face does not have a pre-drilled knockout hole because this face is commonly used to mount large power supply boxes or equipment cabinets. However, the aluminum can be drilled quickly to accommodate any size access holes you may need. For cabinet mounting, stainless self-driller screws can be used, or you can also pre-drill bolt holes if needed.
---
About Us and Contact Information
StrongPoles is a Texas-based company in the business of manufacturing and providing Security Camera Poles that are the most rigid poles in the world. We also manufacture a full line of products for mounting electrical devices or other stylish and sturdy devices for inside or outside projects.
Using StrongPoles solves a whole host of problems with using existing light poles and hose clamps for your security cameras, sensors, and detectors. Whether wired or wireless, Strong Poles provide a purpose-built solution to your security installations. For more information on the Aluminum Bolt-on Mount PTZ Platforms, contact one of our Sales Engineers toll-free at 844-669-3537.