Security Camera Building Mounts
Built Strong to Provide a Sturdy, Steady Security Camera Mounting Platform
Strong Poles has made the problem of mounting security cameras to a building easy. With a full line of Security Camera Building Mounts, they can be installed on the outside or inside your facility quickly. 
Wall Mount Bracket
Strong Poles wall mount brackets for 4″ Square Poles
.
The wall mount bracket is a two-piece system that works like this; the bottom bracket will bolt up to the holes on our 4″ Square Poles then attaches to the wall with bolts or anchors (not included), then the top bracket is to be mounted about 25″ to 30″ minimum distance from the lower bracket. With the top bracket mounted to the wall by using bolts or anchors (not included), the flat bar and long bolts will secure the pole against the wall.
These Wall Mount Brackets are designed to be used with all the lengths (5ft, 8ft, & 12ft) in our 4″ Square series of poles. 
Camera Mounts with Built-In Junction Box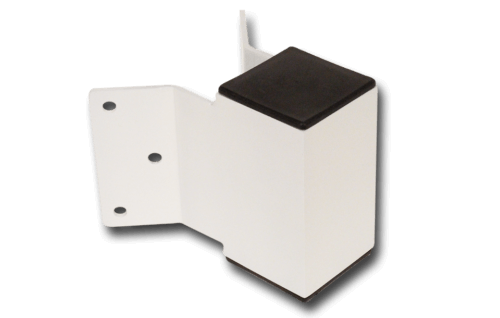 The Camera Mounts with Built-In Junction Box not only gives you 3 different faces for camera mounting (Front face is 4 "W x 7″H – Sides are 6 "W x 6″H) and also gives you a handy junction box enclosure (4″ x 4″ square 7″ Deep) for wiring, etc. Our lineup now includes a Corner Mount and a Wall Mounted version.
These all-aluminum camera mounts can be easily drilled anywhere for access holes, mounting screws, or conduit fittings.
Cameras, lighting, sensors, or other devices can easily and quickly be mounted on any or all of the three mounting faces. 
5′ Reacher Corner or Flat Mount
The Corner Mount Reacher and the Flat Plate Reacher are designed to be installed on walls or corners; concrete anchors are provided.
Both the PTZ Mounts are a 1-1/2″ NPT male connection (also comes with a joiner with set screws to allow male-to-male attachment), and we also have optional reducers to accommodate any PTZ's that may have 1-1/2″ connections (GE, etc.). The Reacher's pipe is made of is large enough to accommodate wiring and connectors, effectively providing a junction box type of cavity. These attachments are designed to reach 5′ out from the pole or wall, giving you ample range to see up and down property lines or fences.
Fly-Over and Fly-Out Mount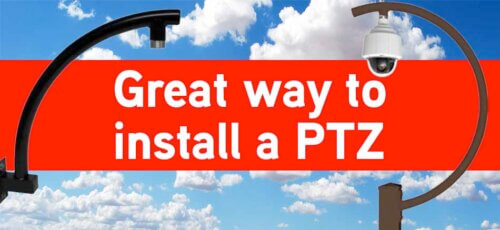 The Fly-Over is the arm that flys the PTZ over the wall or the pole. The Fly-Out is the arm that flys the PTZ out away from the wall or pole. Both are constructed from sturdy 2-inch aluminum tubing and are strong enough to hold a heavy pendant mount PTZ camera and stable enough to avoid shaking from high winds. The mounting plate for both is made from 3/16 inch thick aluminum with a hole in the middle for running the wiring harness thru the tube and two bolt holes on either side for mounting (bolt kit include). 
2 Ft Arm with Dual Gussets (& Optional Flourish)
This arm takes your Cameras and attachments out to 2 feet from the Pole. It can be added to any 4″ Square Pole or to any SteadyMax Pole with a Pedestal Mount.
It can be used "stand-alone" as a Wall-Mounted Accessory (no pole at all). The Flourish scroll is optional and dresses up this mount when used indoor or outdoor.
Will support any PTZ, Camera, or Accessories that fit onto the 1-1/2″ NPT fitting. Very stable. 24′ long with 2″ square tubing and 4″ long 1-1/2″ NPT Pipe (dimensions listed in Additional Information below is shipping box size)
Surface Mount Pole and Plate
Strong Poles has designed an innovative new Surface Mounting System that uses short poles to help you mount cameras or accessories.
This mount can be mounted upside down under building eaves, sideways from building faces, or even bridges to provide multiple fronts for mounting cameras, sensors, or antennas.
One everyday use is on a flat roof coupled with a Fly-Out Mount to hang a PTZ camera (or two) over a parapet wall.
This system's two standard pole heights are 15″ and 30″ tall (not counting the 1/4″ thick aluminum base). The base measures 8″ x 8″ square and has 1/2″ holes for anchors, lag bolts, or other mounting hardware (not provided). Also, a 3″ opening allows conduit, cables, fiber optic, etc., to pass through the base.
The cap on the top of the short pole may be removed for mounting an attachment or can be accessed for using the pole as a junction box. Holes for conduit fittings may be drilled anywhere needed quickly.
---
About Us and Contact Information
Strong Poles is a Texas-based company in the business of manufacturing and providing Security Camera Poles that are the most rigid poles in the world. We also manufacture a full line of products for mounting electrical devices or other stylish and sturdy devices for inside or outside projects.
Using Strong Poles solves a whole host of problems with using existing light poles and hose clamps for your security cameras, sensors, and detectors. Whether wired or wireless, Strong Poles provide a purpose-built solution to your security installations. For more information on the security camera building mounts, contact one of our Sales Engineers toll-free at 844-669-3537.