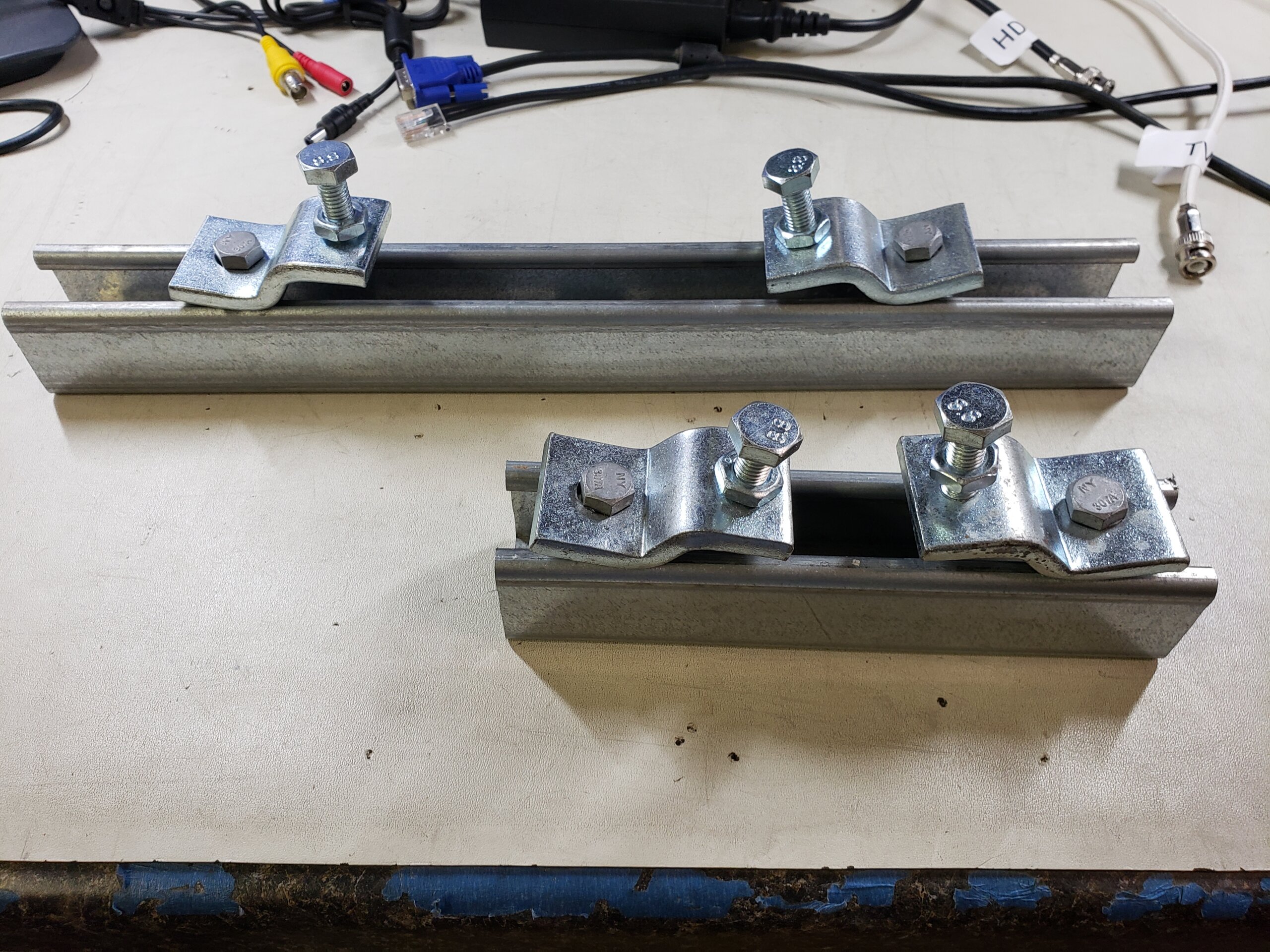 Strongpoles are the leaders in outdoor mounting accessories – and – now we are bringing you the NEW INDOOR MOUNTING and SUSPENSION with many "NO DRILL" options.
This type of enclosure mounting bar is perfect for mounting inside big box stores, industrial factories, military bases, churches, or restaurants. They are generally used in pairs on larger and longer boards, metal, or plastics, to install surveillance equipment, sound systems, or other devices and accessories. These mounting bars with the beam clamps on them will allow you to mount almost anything to a beam inside or outside of a building. The 8″ mounting bar w/ beam clamp will fit a beam up to 5″ wide, and the 16″ mounting bar w/ beam clamp will fit a beam up to 10″ wide.
All types of our versatile mounting bars (Strong Strut) are the same length, with options on the attachment. The small-sized of mounting bars are on an 8″ long section of Strong Strut, and the large-sized mounting bars are on a selection of Strong Strut that is 16″ long.
When mounting your device to this type of mounting bar with the beam clamps, the weight limits are the 8″ single – 50lbs, the 8″ pairs – 100lbs, and the 16″ single – 100lbs, the 16″ pairs -200lbs. Keep in mind that weight and size matter when installing the enclosure, cabinet, or other equipment types. The smaller lightweight can be mounted on a single mounting bar, whereas the heavier larger equipment needs to have double mounting bars.
To find out more information on the speaker mounting bar suspension, contact one of our Sales Engineers toll-free 844-669-3537 or stop by our website at strongpoles.com.