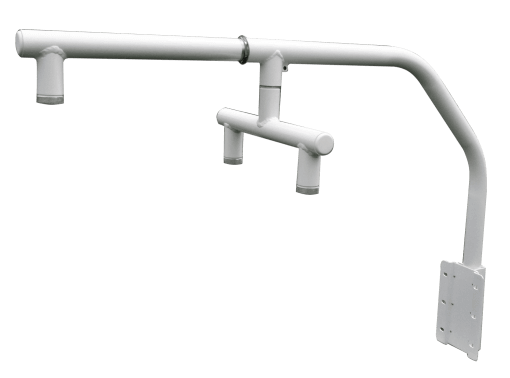 These innovative modular bolt-on platforms and accessories that make up this complete security mounting system have several features that have revolutionized the mounting of security cameras and all types of security-related devices, giving our customers easy to install and stylish ways to mount their camera security systems.
The Parapet PTZ Camera Mount can be used with our poles series or as a stand-alone system; the applications are endless. Install the unit inside or outside, the arm length is 34.6 inches, and the height is 32.7 inches. This sturdy parapet mount attaches to a parapet wall with anchors, then can be rotated back around for service. This handy Mount was initially been meant to hang only PTZ Domes, but we keep introducing all kinds of new attachments for it. Only available in a white powder coat.
The Twin Adapter and the Extension are two new products that can give you more versatility and capability. They can be used together or separately to provide you with the perfect vantage point.
The Extension is used to give you an extra 16-18″ in length, solely designed for the Parapet Mount, and is capable of attaching an additional PTZ or any other device that uses our 1-1/2" NPT fitting.
The Twin Adapter makes it possible to mount two PTZ's or other devices that use our 1-1/2" NPT fitting. The Twin Adapter is exceptionally versatile and can be used as additions to several of our other mounts. (EX: Fly-Out, Reacher, etc.). The Twin Adapter is available in both White and Dark Bronze/Black. The Extension is only available in White.
Use these pieces together or separate the modular bolt-on platforms that have a combination of endless uses. Any question you may have contact one of our Sale Engineers toll-free 844-669-3537 or stop by our website at strongpoles.com.