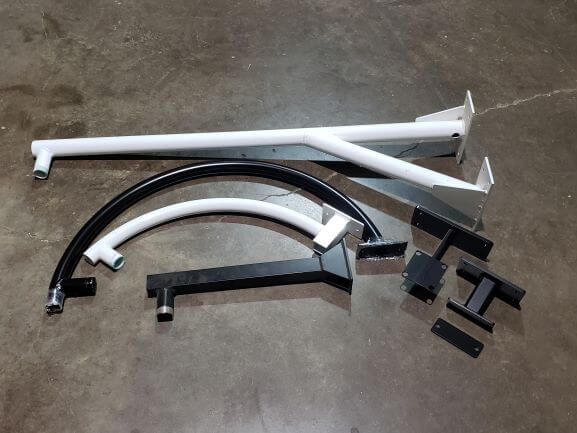 Looking for an alternative to mounting security camera systems outside, check out our line of camera building mounts.
Fly-Out (part # SP-PTMRFO) Use with the Fly-Out Wall Mount Adapter to install your Pan Tilt Zoom Camera to any wall inside or outside.
Wall Mount Bracket (part # SP-WM) No room for a pole with a base; try using our Wall Mount two-piece bracket system.
5ft Reacher Mount (part # SP-SMREACH) Install options are corner-mount or flat-mount.
Parapet (part# EC-WE45Parapet) Only available in white. Use alone for a dome mount or add one of our other accessories for PTZ install.
2ft Arm (part# SP-2FTArmGusset) Add the Flourish scroll is optional and dresses up this mount when used indoor or outdoor.
Surface Mount Pole (part# SP-SMP15 or SP-SMP30) This universal mount can be used vertical or horizontal for those spots that need a camera.
Fly-Over (part# SP-PTM) is designed to get the structure as far away from the camera as possible so that it blocks the least amount of camera view while still being attractive and functional.
For more information on any of the camera building mounts, contact one of our Sales Engineers toll-free at 844-669-3537 or stop by our website strongpoles.com.