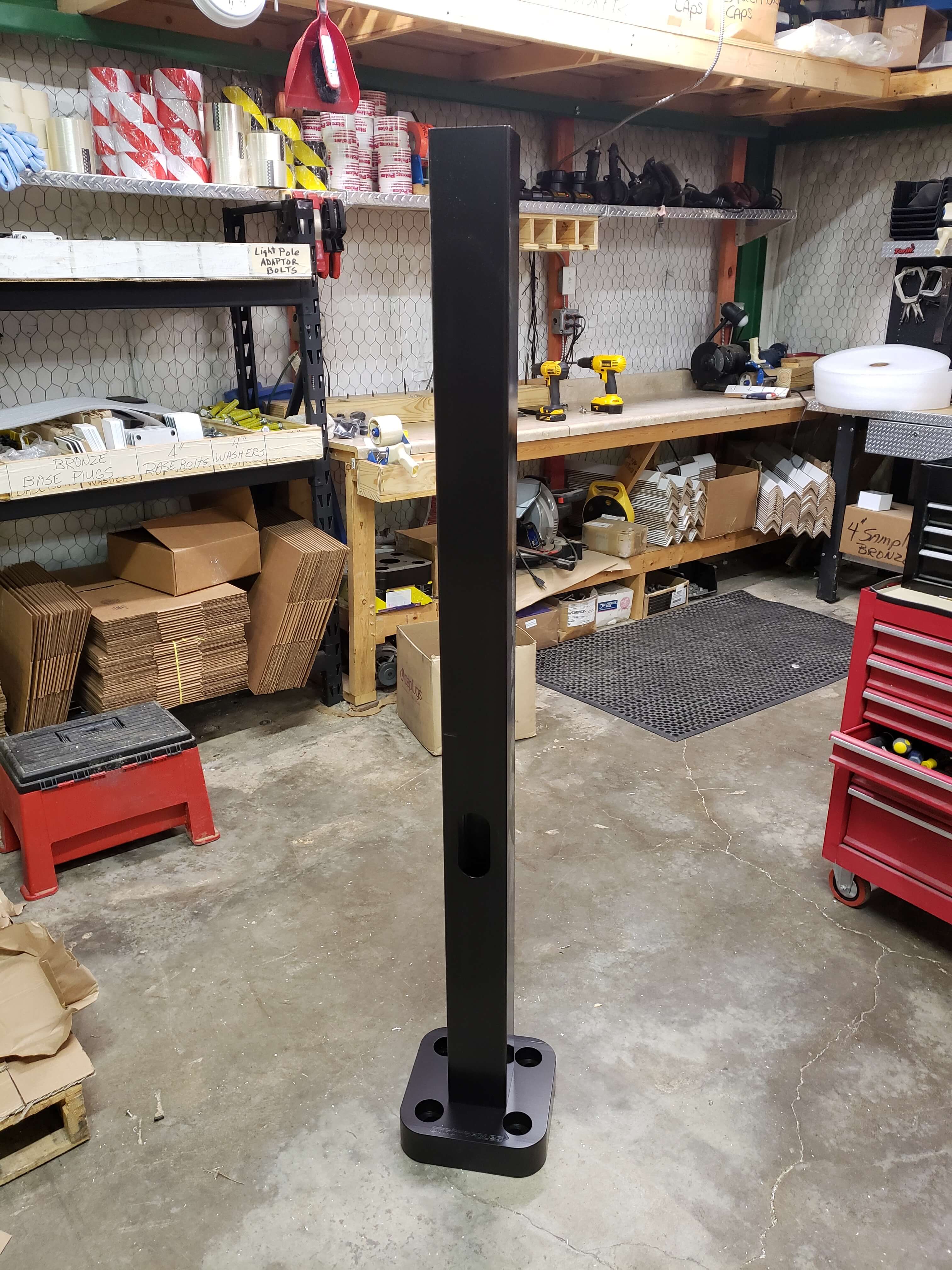 The StrongPoles team, with the calibration of Security Installers, has designed a 5-foot 4-inch square camera pole that is built out of special aerospace aluminum that results in a lighter pole, yet will support heavier loads. The patented "NO WELDS" technology yields more inherent strength than any other pole, with internal corner tubing shafts molded in – the strength is in the corners.
The 5-foot tall poles that are commonly used for license plate recognition, machinery monitoring, and other applications where it is important to be down on the same level with the area, machine, or vehicle that is being monitored.
Our classic square camera poles have three different ways to be installed, our standard fixed base made from 356 aluminum alloy that exceeds the maximum pole load. The tilt-over bases (for 4inch poles only) made from 356 aluminum alloy that exceeds the maximum pole load. Sold separately anchor basket for fixed base or tilt-over base. (optional pre-build anchor cage with all hardware and replaceable mounting studs, includes hot-dipped galvanized anchor cage with pre-installed positioning plate, washer, and hex nuts). The third way to install the 5ft pole is with our wall mount bracket system. This system was designed for those places that you can't install in the ground.
Each pole is designed for easy access for wiring. The hand hole is located about 18 inches from the base. It is 2 inches x 4-1/2 inches opening for making connections to power and any other topology, such as Coax, Cat5/6, Wifi, or Fiber. The gasketed hand hole cover fastened with stainless steel screws, no additional reinforcing is required.
For more information on our 5-foot 4-inch square camera pole, please contact one of our Sales Engineers toll-free 844-669-3537 or stop by our website at strongpoles.com.