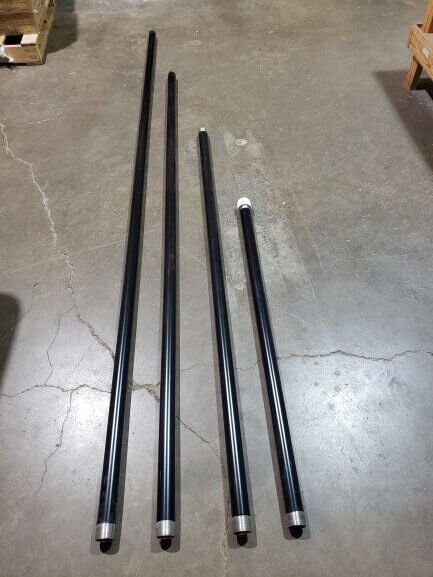 Pipe Drop with 1.5″ to 1.5″ Double Alum Pipe Coupler w/ 2 Set Screws
Why use plastic pipe when you can use Indoor Suspension Mount Pipe Sections from StrongPoles. Made out of Alloy 6061, the standard structural alloy is popular for medium to high strength requirements and has good toughness characteristics. We first introduce the product for our modular indoor mounting system line of products. Still, this product is not limited to indoor use, excellent corrosion resistance to atmospheric conditions, and good corrosion resistance to seawater.
Our pipe drop sections are powder coated in white and black for durability and long life. Pipe drop standard lengths are 8 inches, 19-1/2 inches, 4 feet, 6 feet, 8 feet, and 10 feet, with 1-1/2 inch inside diameter. If you need more extended pipe drops, we can make them in quantities of 10 or more, and they will have to be shipped via truck freight.
Each Pipe Drop has a Threaded Connector included that has 2 set screws to hold the union fast. The threaded connectors may not be needed if you are using threaded accessories but are included if you need to join two Pipe Drops together to achieve a more exact length or drop.
For more information on the Indoor Suspension Mount Pipe Sections, contact one of our Sales Engineers toll-free at 844-669-3537 or stop by our website at strongpoles.com.