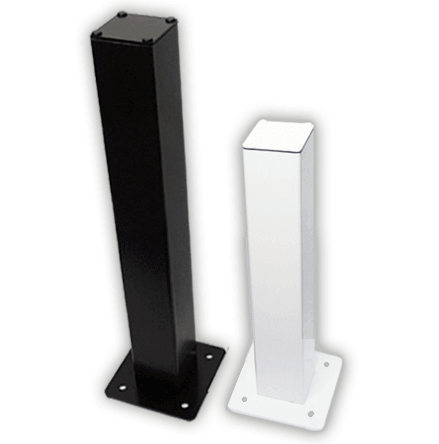 Strong Poles has designed an innovative Surface Mounting Pole System with short lengths of poles to help you mount cameras or accessories.
This mount can be mounted upside down under building eaves, sideways from building faces, or even bridges to provide multiple faces for mounting cameras, sensors, or antennas.
One common use is on a flat roof coupled with a Fly-Out Mount to hang a PTZ camera (or two) over a parapet wall.
This Mounting System can be used with any of the Strong Pole Attachments to create a truly custom Mounting System for any purpose.
The two standard pole heights for this system are 15" and 30" tall (not counting the 1/4″ thick aluminum base). The plate measures 8" x 8" square and has 1/2" holes for anchors, lag bolts, or other mounting hardware (not provided). Also, a 3″ opening allows conduits, cables, fiber optic, etc. to pass through the base.
The cap on the top of the short pole may be removed to mount an attachment or be accessed for using the pole as a junction box. Holes for conduit fittings may be drilled anywhere needed quickly.
Cameras, lighting, sensors, or other devices can easily and quickly be mounted on any or all of the four mounting faces, or any mount may be used. The combinations go much farther than what we show you here in pictures. Use your imagination and mount what you need for your project.
We would like to see what you mounted using our Universal Surface Mounting System.
For more information on the Rooftop and Surface Mounted Poles, contact one of our Sales Engineers toll-free 844-669-3537 or stop by our website at strongpoles.com.