Side Mount Platform
A DIY Mount that will accommodate
Panoramic Cameras, Domes, Bullets and other Devices
This Side Mount Platform attaches to a MAP (pedestal), which is pre-drilled to accept it, and allows you to mount whatever you need as a wall-mount, by simply drilling the holes you need for the device you are attaching.
Like all the other products in our lineup of Modular Indoor Mounting System pieces, this Side Mount Platform is aluminum, and is powder coated (in white or black) for durability and long life.
The Mounting Surface measures 6-1/2" x 6-1/2" inches square, with an 1-1/2" hole in the middle that allows for hiding cabling and pass it thru to the MAP pedestal, which can be used as a junction box, if needed. The mounting surface is 3" from the base.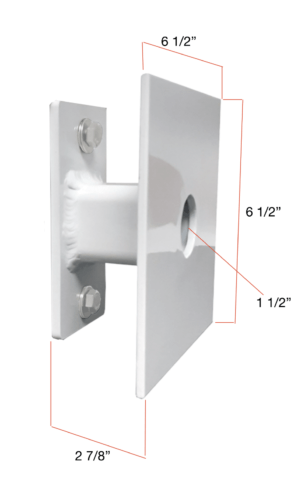 When attached to a MAP pedestal, we commonly see that typically our 2 ft. Arms are attached to the pedestal holding PTZ's, and 2 of these Side Mounts are used to hold stationery cameras.
Show us how you used this Side Mount Platform.
Spec Data Sheet